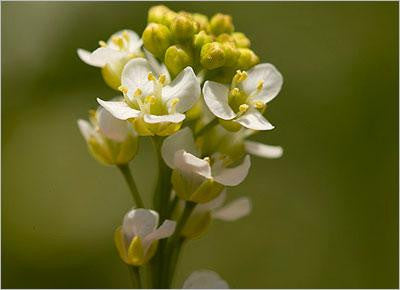 Abyssinian Carrier Oil Unrefined
Botanical Name: Brassica abyssinica
INCI Name: Crambe Abyssinica Seed Oil
Description:  Abyssinian Oil is an Unrefined Carrier Oil that contains no solvents, chemicals, or preservatives. It is an extremely light and non-greasy natural seed based Carrier Oil popular in cosmetics and toiletries. Abyssinian Carrier Oil contains a high amount of unsaturated fatty acids making it resistant to oxidative stress.
Linoleic Acid 12.4%
Erucic Acid 50 -65%
Oleic Acid 15.4%
Extraction Process:  Unrefined
Part of Plant:  Seeds
Consistency: Very light, easily spreadable with no tack.
Absorption:  Absorbs quickly into the skin, and leaves no greasy or oily feeling on the skin.
Abyssinian Oil Uses: Abyssinian Carrier Oil Unrefined is light in color. Abyssinian Oil can assist in the dispersion of pigments and promote an even smooth delivery of the final formulated product and prevents "caking." It also offers exceptional benefits for all hair types. This Carrier Oil produces a sheen and the oil glides onto the hair surface to form a very light continuous lipid layer which provides lubricity to help detangle and lock in essential moisture.
Shelf Life:  Abyssinian Carrier Oil Unrefined has a two year shelf life with proper storage. Protect Carrier Oils from light, heat and humidity. Refrigeration after opening is recommended.