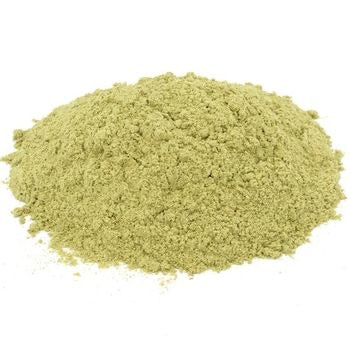 Ashwagandha Leaves Powder
Bulk Herb Store Canada and USA
Ashwagandha Root Powder, Dried Herb
Botanical Name: Withania somnifera
Ashwagandha is a plant. Historically, the root and berry were used as medicinal herbs to make medicine for arthritis, anxiety, trouble sleeping (insomnia), tumors, tuberculosis, asthma, a skin condition marked by white patchiness (leukoderma), bronchitis, backache, fibromyalgia, menstrual problems, hiccups, and chronic liver disease.
The name Ashwagandha is from the Sanskrit language and is a combination of the word ashva, meaning horse, and gandha, meaning smell. The root has a strong aroma that is described as "horse-like." In Ayurvedic, Indian, and Unani medicine, ashwagandha is described as "Indian ginseng." Ashwagandha is also used in traditional African medicine for a variety of ailments.
Ashwagandha Root Powder is also used as an "adaptogen" to help the body cope with daily stress, and as a general tonic. Some people also use ashwagandha for improving thinking ability, decreasing pain and swelling (inflammation), and preventing the effects of aging. It is also used for fertility problems in men and women and also to increase sexual desire.
Disclaimer:  Please note that Sunrise Botanics is a supplier of natural dried herbs, spices and ingredients. Information on this website is compiled from various sources for educational purposes only and should not be used to treat or diagnose any medical condition. Due to federal regulations we are not able to answer questions regarding dosage and/or internal use recommendations. Please consult your doctor or a qualified healthcare professional for additional insight.