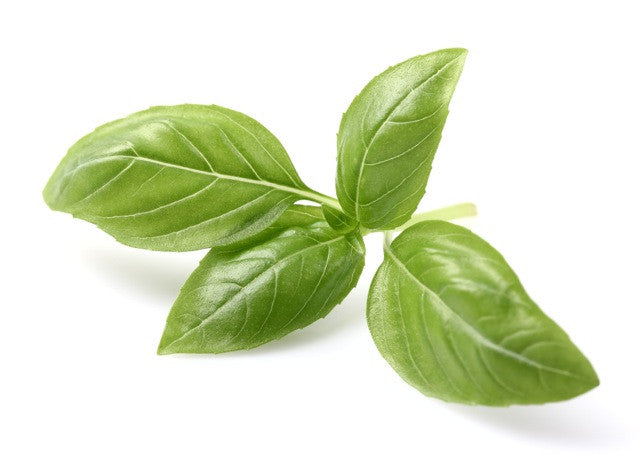 Basil Sweet Essential Oil (India)
Botanical Name:  Ocimum basilicum L
Country of Origin:  India
Extraction Process: Steam Distillation
Active Constituent(s): Methyl chavicol 72% and Linalool 20.5%
Part of Plant: Leaves
Also Known As:  Common Basil Essential Oil, Garden Basil Essential Oil, Sweet Basil Essential Oil.
Botanical Description:  Although there are many varieties of Basil, all have an intense aroma when the leaves are crushed.  The plant itself, has dark hairy green leaves of an oval shape, white flowers, and reaches a height of about 25 cm.
Appearance: Ranges from a pale yellow to amber color liquid.
Oil Consistency: Thin
Perfumery Note: Top
Aroma: Strong
Aromatherapy:   Basil Sweet Essential Oil (India) has a complex aroma which starts out green and fresh, and then gives way to a warm and spicy aroma. This oil is 100% pure and natural essential oil; certified as per the processes of the ISO 9235 standard.
Essential Oil Recipes: Basil Sweet Essential Oil blends well with Bergamot, Clary Sage, Clove Bud, Lime, Eucalyptus, Juniper, Lemon, Neroli, and Rosemary Essential Oils.
Uses:   Essential oils such as Basil Sweet Oil (India) are suitable for use in an ultrasonic essential oil diffuser. It may also be used for aromatherapy massage when diluted in a suitable carrier oil.
Basil Sweet Essential Oil is used in Ayurvedic medicine for strengthening compassion, faith and bring clarity. Traditionally, it has also been used to relieve muscular aches and pains, colds and flu, hay fever, asthma, bronchitis, mental fatigue, anxiety, and depression. In aromatherapy Basil is used to soothe and uplift. It is popular with massage therapists for alleviating tension and stress in their patients. It also helps to clear the sinuses, so it is a favored ingredient by naturopaths when treating many respiratory ailments.
When diluted in a suitable carrier oil, Basil Sweet Essential Oil has insect repellent properties, while the linalool's mild analgesic properties are known to help to relieve insect bites and stings.
Cosmetic applications of Basil Sweet Essential Oil include perfumery, and treatments for oil skin.
Interesting Facts:  In Hindi, Basil is referred to as "tulsi."  In Greek it is called "okimon" meaning fast, in reference to the rapidity with which the plant grows.  It is also referred to as "basilicum," its Latin name, which means "ointment of kings."  Aphrodisiac properties are also attributed to it.
General Information:  Sunrise Botanics provides this essential oils guide for educational purposes only and not as medical advice. Please consult a qualified healthcare practitioner or resource on essential oil uses, safety and precautions for all essential oils Canada, USA and Worldwide.