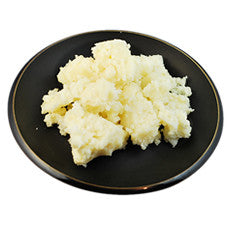 Soap Making and Cosmetic Supplies
Mango Butter, Natural Butters Wholesale Canada and USA
This Ultra Refined Mango Butter is expeller pressed from the mango seed and further refined to remove any color or scent. It is solid at room temperature but melts on contact with the skin.
Mango Butter is said to be rich in antioxidants and can be used to soften, smooth and moisturize rough dry skin. It has natural emollient properties, and is reputed to be useful for treating burns, stretch marks, scar reduction, wound healing and skin regeneration – smoothing of wrinkles. It is also reputed to have protective effect against UV radiation and can be used to treat sunburns. Mango Butter is ideal in formulations for lotions, body butters, balms, soaps, shaving creams, hair care products and lip balms.
Recommended Usage:
• Lotions & Creams: 3 - 5 %
• Balms: 5 – 100 %
• Bar Soaps: 3 – 6 %
• Hair Conditioners: 2 – 5 %
When adding butters to creams and lotions, it might be necessary to gently warm them until the texture can be incorporated into the final product. Using a hand blender, create a vortex with your cream or lotion and drizzle your melted butter to fully incorporate. For addition in soaps, the general rule of thumb is 1 tablespoon per pound. As with most raw materials, results may vary, so we strongly recommend small, lab scale batches prior to any commercial manufacturing.
Shelf Life: This butter should be stored in a cool dark place and has a shelf-life of 1 year when stored properly.