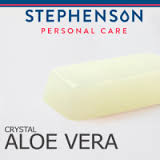 Aloe Vera Melt and Pour Soap Base
Wholesale Melt and Pour Soap Base Canada and USA
Aloe Vera Melt and Pour Soap Base
Our Stephenson Aloe Vera Melt and Pour Soap Base is purely vegetable based derived from naturally grown aloe vera plants.
If you are looking for a paraben free and phenoxyethanol Melt and Pour Soap Base look no further.
Owing to the aloe vera content, your soaps will be transparent. More importantly the soap will be soothing and gentle on the skin.
This soap base is made with double-distilled clear coconut oil which gives a great lather and leaves no soapy film behind.
Did you know?: A two-pound brick can yield anywhere between 10 to 20 soaps depending on factors such as size and style of soap bar.
Product Highlights:
• Highly moisturizing formula with superior lather
• No artificial colors added
• No animal testing
• Paraben free
• Highly emollient
• Vegetable based and biodegradable
• No sulfates
• No parabens
• Phenoxyethanol free
Ingredients by INCI name:
• Glycerin
• Water
• Sorbitol
• Sodium Stearate
• Sodium Laurate
• Aloe Barbadensis Leaf Juice
• Sodium Oleate
• Sodium Chloride
• Citric Acid
• Sodium Citrate
• Pentasodium Pentetate
• Tetrasodium Etidronate