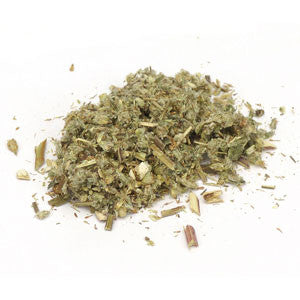 Botanical Name: Artemisia vulgaris
Mugwort is a plant that grows in Asia, North America, and Northern Europe. The plant parts that grow above the ground and the root are used to make medicine.
People take mugwort root as a "tonic" and to boost energy.
People take the rest of the plant for stomach and intestinal conditions including colic, diarrhea, constipation, cramps, weak digestion, worm infestations, and persistent vomiting. Mugwort is also used to stimulate gastric juice and bile secretion. It is also used as a liver tonic; to promote circulation; and as a sedative. Other uses include treatment of hysteria, epilepsy, and convulsions in children.
Women take mugwort for irregular periods and other menstrual problems.
In combination with other ingredients, mugwort root is used for mental problems (psychoneuroses), ongoing fatigue and depression (neurasthenia), depression, preoccupation with illness (hypochondria), general irritability, restlessness, trouble sleeping (insomnia), and anxiety.
Some people apply mugwort lotion directly to the skin to relieve itchiness caused by burn scars.
The chemicals in mugwort might stimulate the uterus.