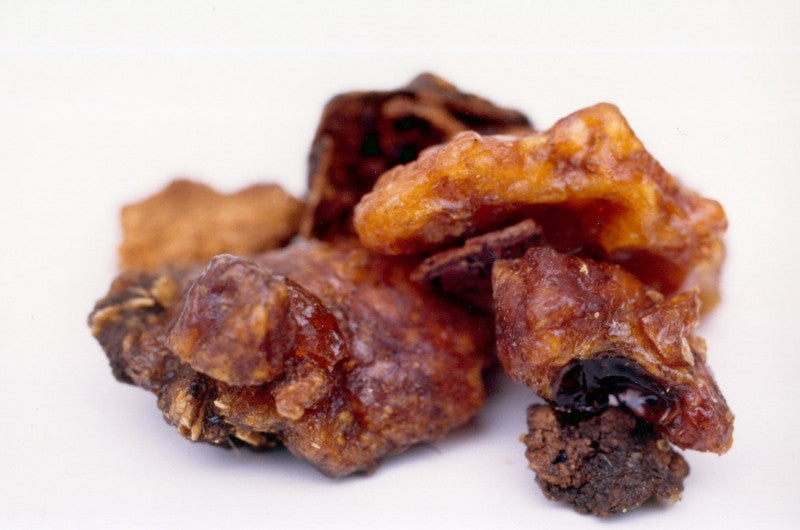 Opoponax Essential Oil (Egypt)
Botanical Name: Commiphora erythraea
Plant Part: Resin
Extraction Method: Steam Distilled
Origin: Egypt
Description: The Opoponax tree has a branching stem growing about 1 to 3 feet high, thick and rough near the base. Leaves are pinnate, with long petioles and large serrate leaflets, the terminal one cordite, the rest deficient at the base, hairy underneath. The oleoresin is procured by cutting into the stem at the base. When sun-dried, the juice that exudes forms the Opoponax Essential Oil. In commerce it is sometimes found in tears, but usually in small, irregular pieces.
Color: Yellow to reddish liquid.
Common Uses: Properties of Opoponax Essential Oil include being analgesic, antifungal, antiseptic, astringent, carminative, emmenagogue, expectorant, antispasmodic, disinfectant, immune stimulant, circulatory stimulant, stomachic, tonic and vulnerary. It is useful for amenorrhea, dysmenorrhea, menopause, uterine tumors, as it purges stagnant blood out of the uterus. Also known as sweet Myrrh, it is commonly used in Chinese medicine for rheumatism, arthritis and circulatory problems. Opoponax Essential Oil can be used in perfumery.
Consistency: Thin
Note: Middle
Strength of Aroma: Medium
Blends well with:  Frankincense, Sandalwood, Benzoin, Cypress, Juniper, Mandarin, Gernanium, Patchouli, Thyme, Peppermint, Lavender, and Pine.
Aromatic Scent: Opoponax Essential Oil has a bittersweet undertone with herbaceous notes.
History: A cousin of Myrrh, Opoponax is most likely the myrrh spoken of in the Song of Solomon. Unlike Myrrh, this has a sweeter, softer and longer lasting aroma, very different from the sharp freshness of Myrrh oil. It has been a component of incense and perfumes since biblical times.