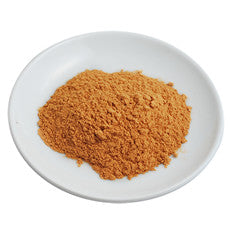 Sandalwood (Powdered) Exfoliant
Wholesale Spa Products Canada and USA
Sandalwood (Powdered) Exfoliant
This exotic powder comes from the Sandalwood Tree, an evergreen tree indigenous to Australia.
The wood of the tree is harvested and ground into powder.
Sandalwood Powder has fine particles that provides gentle exfoliation, and helps to unblock pores and to remove dirt and flaking skin. It is said to have mild antibacterial properties and can act as a gentle cleanser.
Sandalwood Powder has a light, delicate woody scent and is considered a natural choice as an exfoliant in skin-care products such as facial cleansers (1- 3%), creams, and soaps (2 – 5%).
Shelf Life: This product should be stored in a cool dark place away from moisture.