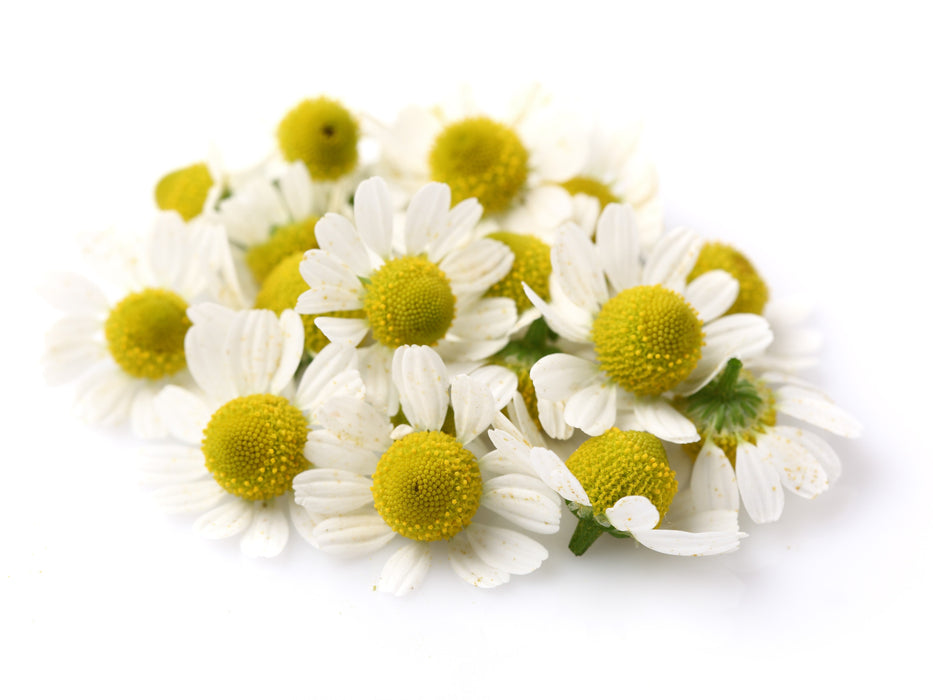 Chamomile Essential Oil (South Africa)
Active Ingredient:  2-Methylpropyl 2-methyl propanoate: 25%
Botanical Name: Eriocephalus punctulatus
Plant Part: Flowers
Extraction Method: Steam Distilled
Origin: South Africa
Description: This variety of Chamomile is a particularly fragrant, though, rare aromatic shrub indigenous to the mountain areas of South Africa. It is a white flowering small shrub with fleshy gland dotted leaves which grows up to a meter in height and is locally known as "Cape Chamomile".
Color: Pale transparent blue to dark blue liquid
Consistency: Medium
Aromatic Scent: Chamomile South African Oil has a fruity odor.
Note: Middle
Strength of Aroma: Strong
Blends well with:  Bergamot, Clary Sage, Lavender, Geranium, Jasmine, Neroli, Patchouli, Tea Tree, Rose, Lemon and Ylang-ylang. 
Common Uses: Chamomile has a long tradition in herbal medicine. The flowers were used in many cures including an herbal tea to cure insomnia, relieve stress and depression. Therapeutic properties include: analgesic, anti-allergic, anti-convulsive, antidepressant, antiseptic, antispasmodic, anti-inflammatory, cholagogic, diuretic, emmenagogue, febrifuge, hepatic, nervine, sedative, splenetic, stomachic, sudorific, tonic, vermifuge, vasoconstrictor.
History: The word Chamomile comes from the Greek word Chamomaela or 'Ground Apple' and has been in use for centuries. It was first thought to be used by the Egyptians to cure 'Auge' or Acute Fever. In the Middle Ages it was used as a 'strewing' herb to improve the atmosphere at gatherings and festivals, and to the Anglo Saxons it was one of the 'Nine Sacred Herbs'.