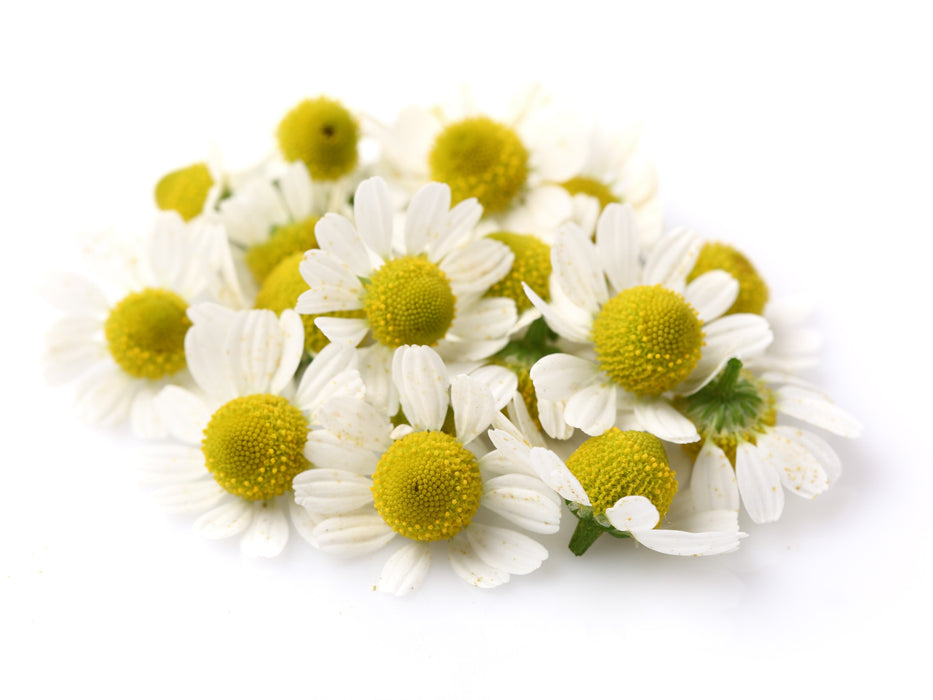 Chamomile (German Blue) 3%
Botanical Name: Matricaria chamomilla L
Plant Part: Flowers
Extraction Method: Steam Distilled
Description: The Chamomile German plant is an annual, reaching up to 60cm in height. From May to August it flowers, sporting top-heavy flower heads with a fragrance similar to apples.
Color: Deep blue to bluish green liquid.
Common Uses: Chamomile German Oil can be used to assist with the following ailment: abscesses, allergies, arthritis, boils, colic, cuts, cystitis, dermatitis, dysmenorrhea, earache, flatulence, hair, headache, inflamed skin, insect bites, insomnia, nausea, neuralgia, PMS, rheumatism, sores, sprains, strains, stress and wounds. The therapeutic properties of Chamomile German Oil include: analgesic, anti-spasmodic, antibiotic, anti-inflammatory, emmenagogue, digestive, hepatic and vulnerary. German Chamomile contains azulene, a powerful anti-inflammatory agent. This blue crystal is not actually present in the plant, but forms in the oil and only a small quantity is needed. The quality is generally graded by the azulene content and good quality oil should contain between 4.5 - 5%. It is this azulene that gives the oil a deep blue color.
Consistency: Medium
Note: Middle
Strength of Aroma: Medium
Blends well with:  Bergamot, Clary Sage, Lavender, Geranium, Jasmine, Neroli, Patchouli, Tea Tree, Rose, Lemon and Ylang-ylang.
Aromatic Scent: Chamomile German Essential Oil has a sweet, straw-like fragrance.
History: Derived from the Greek word meaning 'ground apple' and the Latin word 'nobilis', referring to a noble flower, it certainly is a plant of many uses. To the Egyptians it was a herb dedicated to the sun to cure fevers and to the moon for its cooling ability.