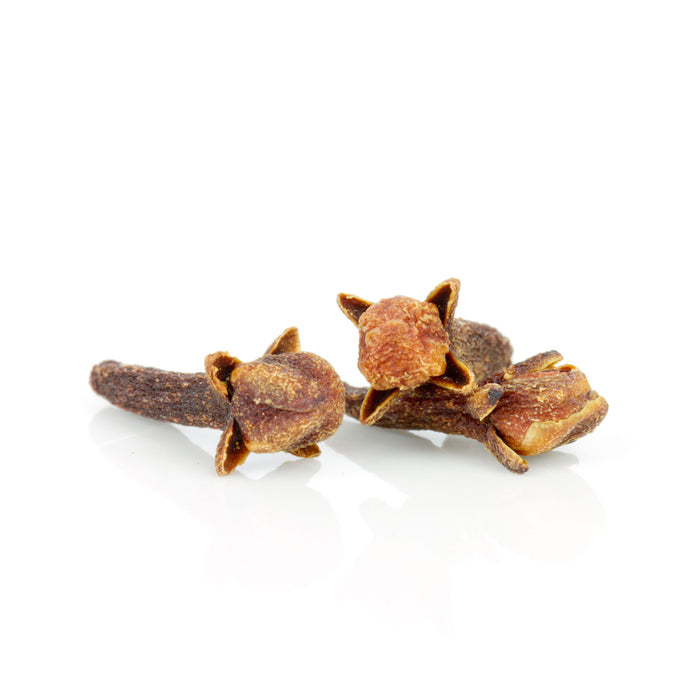 Clove Bud Essential Oil CO2 Extracted
Active Ingredient:  Eugenol: 79%
Botanical Name: Syzygium aromaticum L.
Plant Part: Buds
Extraction Method: Carbon Dioxide Extraction
Origin: India
Description: The CO2 extraction of Clove Bud yields a greater number of aromatic compounds from the root than any other process used to distill essential oils. At a low temperature, carbon dioxide (or CO2) can be pressurized until it becomes liquid. This liquid then acts as a solvent, and is used to extract the oil from plants. After the extraction is completed, the vessel is brought back to room temperature, and the CO2 rapidly converts to gas, leaving behind a high-quality oil that is free of chemical solvents.
Color: Pale yellow to dark brown liquid.
Consistency: Medium
Aromatic Scent: Clove Bud Essential Oil CO2 Extracted smells spicy like actual cloves. The aroma of this oil is a bit sweeter than the Indonesian variety and slightly less herbaceous. For this reason, we recommend that you order a sample before making a larger order.
Note: Middle
Strength of Aroma: Medium
Blends well with: Blends well with other spice oils including Cinnamon Bark, Nutmeg, Citronella, Grapefruit, Lemon, Orange, Peppermint, Rosemary and Rose.
Uses: Essential oils such as Clove Bud Oil CO2 extracted are used in Indian Ayurvedic medicine, Chinese medicine, and western herbalism and dentistry where the essential oil is used as an anodyne (painkiller) for dental emergencies. Clove Bud oil, applied to a cavity in a decayed tooth, helps to relieve toothache.The clove essential oil is used in aromatherapy when stimulation and warming are needed. Topical application over the stomach or abdomen are said to warm the digestive tract, to relieve digestive problems.
Clove Bud oil is also used in balms to help improve circulation to soothe muscle aches and pains. Clove oil is the active ingredient that helps the blood flow through the area and helps to reduce the pain. Because it helps improve circulation, Clove Bud oil is ideal for reducing the pain and discomfort typically associated with tension headaches.
When used for aromatherapy purposes, Clove Bud oil helps to stimulate the brain. The strong aroma of Clove Bud oil helps one to become more attentive and can even help one feel more energetic than they normally are.
History: The word Clove comes from the Latin word clavus, meaning nail, since the shaft and head of the clove bud resembles an ancient nail. Cloves and nutmeg were among the most precious of spices of Europe of the 16th and 17th centuries, and were worth more than their weight in gold. Today it is used worldwide as a culinary spice from East Indian masala blends to Dutch cheeses, in herbal cigarettes and pomanders, and even as an ant repellent.
General Information:  Sunrise Botanics provides this essential oils guide for educational purposes only and not as medical advice. Please consult a qualified healthcare practitioner or resource on uses, safety and precautions for all essential oils Canada, USA and Worldwide.