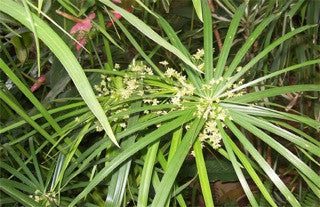 Botanical Name: Cyperus scariosus
Plant Part: Root
Extraction Method: Steam Distilled
Origin: India
Description: Cyperus scariosus is known as Umbrella's Edge or Nutgrass.  In Hindi, it is also known by the name Nagarmotha.  It is an erect perennial grass native to subtropical regions of the Northern Hemisphere.
Color: Dark yellow to brownish liquid.
Consistency: Viscous
Aromatic Scent: Cypriol Essential Oil has a warm, wood, slightly typical note of Vetiver and Oud.
Note: Middle
Strength of Aroma: Strong
Uses: Essential oils such as Cypriol Oil are often used in compounding perfumes, in the manufacturing of soaps, medicine and incense sticks. It is also used as an insect repellent.
History: Tom Ford for Men was claimed to be the first to use cypriol: "that slightly dirty, sensual, sexy smell...It's not the same as natural musk used to be, but it has a bit of something that some people would think slightly dirty...I think it's warm and sensual." And yet Xeryus, a floral woody semi-oriental masculine by Givenchy, developed by Firmenich, launched in 1986!
The Egyptians used Cyperus papyrus, a close relative of Cypriol, to make papyrus, Egyptian paper. They also used cypriol to make cloth and fragrances.
General Information:  Sunrise Botanics provides this essential oils guide for educational purposes only and not as medical advice. Please consult a qualified healthcare practitioner or resource on essential oil uses, safety and precautions for all essential oils Canada, USA and Worldwide.