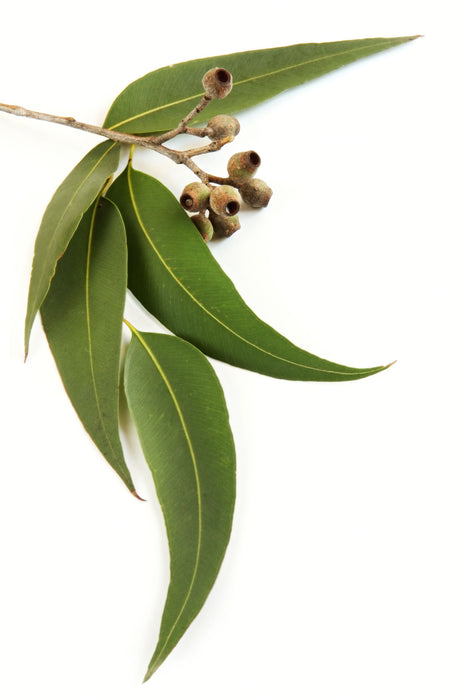 Eucalyptus Radiata Essential Oil
Active Ingredient:  1,8-Cineole: 69.93%, α-Terpineol: 8.67%
Botanical Name: Eucalyptus radiate
Plant Part: Woods and Leaves
Extraction Method: Steam Distilled
Origin: Australia
Description: Eucalyptus Radiata is commonly known as "narrow-leaved Peppermint". The young trees have oval bluish-green leaves while the mature trees develop long, narrow, yellowish leaves, creamy-white flowers and a smooth, pale grey bark.
Color: Clear to pale yellow liquid.
Consistency: Thin
Aromatic Scent: Eucalyptus Radiata Essential Oil has a crisp, clean, camphoraceous aroma with back notes of citrus/floral.
Note: Top
Strength of Aroma: Strong
Blends well with: Basil, Cajeput, Cedarwood, Citronella, Ginger, Lavender, Lemon, Myrtle, Frankincense, Spearmint, and Tea Tree.
Common Uses: Essential oils such as Eucalyptus Radiata Oil have been used on all sorts of skin ailments such as burns, blisters, wounds, insect bites, lice, and skin infections. It contains a high percentage of Cineol, also known as Eucalyptol, which has strong antiseptic properties, thus it was popularly used to relieve colds and congestion. Eucalyptus Radiata is preferred over Eucalyptus Globulus because it is less harsh, more pleasant to inhale, and less likely to irritate the skin. It has also been used on sore muscles and joints as well as an antiseptic.
History: Eucalyptus Essential Oil has long been used in homes in Australia. In Spain, the timber of Eucalyptus was used in construction.
General Information:  Sunrise Botanics provides this essential oils guide for educational purposes only and not as medical advice. Please consult a qualified healthcare practitioner or resource on uses, safety and precautions for all essential oils Canada, USA and Worldwide.