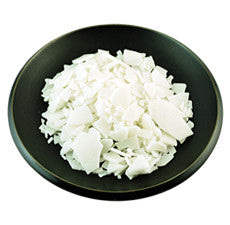 Making Cosmetics
Glyceryl Stearate SE, Additive
INCI Name: Glyceryl Stearate SE
Sold in flake form, the self-emulsifying additive glyceryl monostearate has a mild odour. It is designed for use in making cosmetics as an emulsifier, stabilizer, opacifier, and an emollient in neutral to slightly alkaline formulas. Its self-emulsifying properties minimize the need for co-emulsifiers in many formulations. It can form liquid crystalline and/or crystalline gel phases in emulsions containing a large water phase.
Glyceryl Stearate SE is suggested for use as the primary, if not sole, emulsifier in lotions and creams. It melts at 60º C / 140º F in the oil phase, and it has a saponification value of 150 in soapmaking.
Note: It does not contain any material derived from animals.