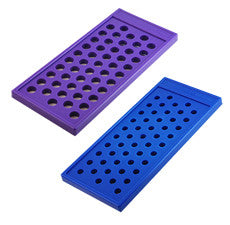 Lip Balm Tube Filling Tray
Lip Balm Tube Filling Tray
Manufactured from HDPE, these plastic lip balm filling trays are great for filling both standard and slim line lip balm tubes. These trays are simple and easy to use, and allow you to neatly fill up to 50 lip balm tubes at once, ultimately speeding up the entire lip balm production process.
How it works

• Simply invert the filling tray and firmly insert the lip balm tubes in the opening.

• Turn the tray over and proceed to pour the lip balm base in the tubes.

• Leave at room temperature to harden for about 5 hours.

• Once lip balms have solidified, use a plastic spatula to gently scrap away the excess lip balm base on the surface of the tray.

• Invert the filling tray once again and remove the filled lip balm tubes.

• Gently wipe around the rim of the lip balm tubes, attach the lids and labels, and enjoy!