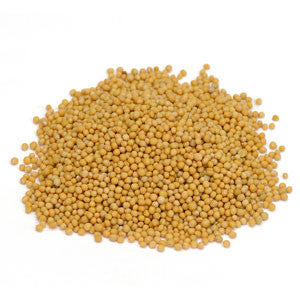 Carrier Oils
Mustard Seed Carrier Oil
Botanical Name: Brassica Alba
Mustard Seed Oil is a Carrier Oil with fantastic regenerative oil.
Mustard Seed Carrier Oil offers antibacterial and antifungal properties, and is also abundant in Vitamins A, B and E which are critical for skin health.
Mustard Seed Carrier Oil is warming (rubefacient) i.e. it draws blood to the surface and increases body heat, thereby actually relieving inflammation in the deeper tissues and easing stiffness in the joints and muscles. It is still an excellent therapeutic carrier oil for treating arthritic hands and feet and for sports or age related joint and muscular pain.
Extraction Method: Cold Pressed
Processing: Unrefined
Source: Seeds
Aromatic Description: Mustard Seed Carrier Oil has very little scent characteristic of most carrier oils.
Common Uses: Mustard Seed Carrier Oil has been used for centuries in India as a massage oil and for skin care, where the oil is believed to improve circulation, complexion and muscular development. The oil also has antibacterial properties and is high in omega-3 fatty acids. Mustard seed oil has applications in personal care products like massage oils and muscle rubs.
Consistency: Carrier Oils characteristics.
Absorption: Mustard Seed Carrier Oil will leave an oily feeling on the skin.
Shelf Life: Users can expect a shelf life of 1 year with proper storage conditions (cool, out of direct sunlight). Refrigeration after opening is recommended.